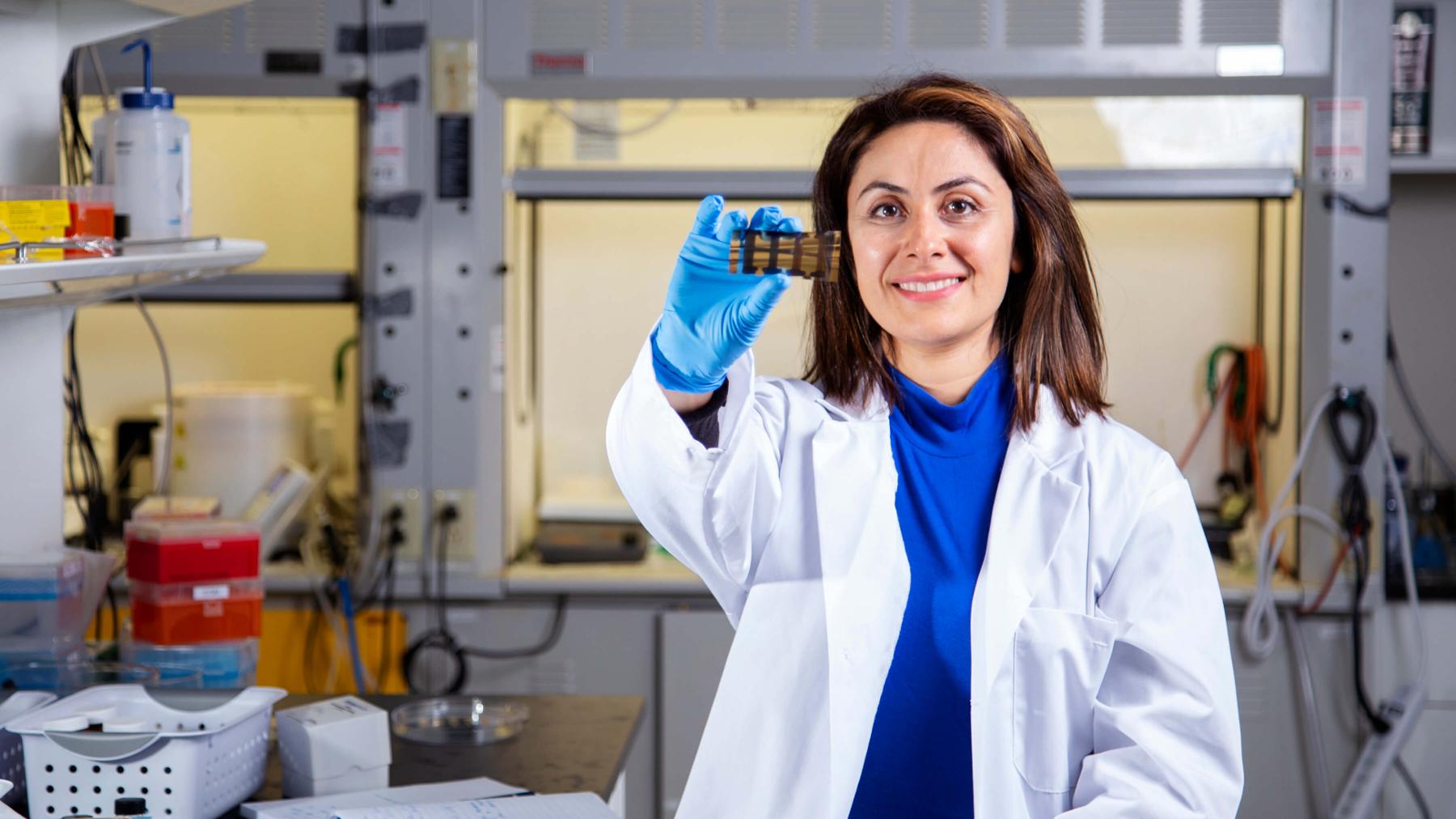 Demistifying Our Technology
PVModules FAQ
Our PVModules customers are manufacturers of indoor battery-driven smart gadgets and internet-of-things devices, looking to either make their products wireless, or remove the need for disposable batteries in their devices. PVModules are not a direct-to-consumer product.
PVModules are ideal power sources for indoor devices like smart door locks, electronic shelf labels, wireless keyboards, and more. If you are a manufacturer of devices that can benefit from removing wires, or removing batteries that have to be replaced or removed to recharge, PVModules may be right for you. Please fill out the questionnaire linked here. to let us know what you build and we will contact you promptly to discuss our solutions.
Our PVModules are tuned for indoor light. They can be built to custom sizes between 1 cm2 and 15 cm2, and a single module can be used with devices which require up to 1 mW of power (depending on the size of the PVModule). If you would like more detailed specifications, please Contact Us.
No, for the most part. Our PVModules are built with the technology that will create the solar panels of the future, but they are not designed to be used with sunlight alone, or outdoors. PVModules are indoor photovoltaic modules, designed to be integrated into the small wireless technologies that power your everyday lives. However, we are currently developing a manufacturing process to produce solar modules and solar panels in the near future. Please visit our website for further details and up-to-date information.
Photovoltaics have been used indoors for decades, though in limited use. Think about the silicon cells that have powered handheld calculators. However, the PVs integrated into those old devices were poorly tuned to indoor light. Our perovskites are extremely well tuned to indoor artificial light, and allow us to capture 3x more power per square cm than our traditional silicon competition. This way we can power complex indoor IoT applications, while keeping the size, and weight, of our devices low, compared to past technologies.
Outdoor light comes from, well, the sun. The wavelengths of light that the sun emits is something we cannot control, and a lot of that light is in the UV and IR range of the light spectrum. Since UV lights can be harmful to our bodies, and we don't see in IR, it's not surprising that artificial lights, like those which come from fluorescent lights or LEDs, are selected to primarily emit in the visible spectrum that we can actually enjoy. As such, the photovoltaics which have been developed and selected for their ability to absorb sunlight may not absorb indoor light as well as photovoltaics designed to absorb artificial lights. One of perovskite's largest benefits is the ability to tune the specific chemical formula to target indoor light or target outdoor light. As such, our PVModules are designed to absorb indoor light, as seen in the figure below, where we target the red boxed area of the electric light spectrum.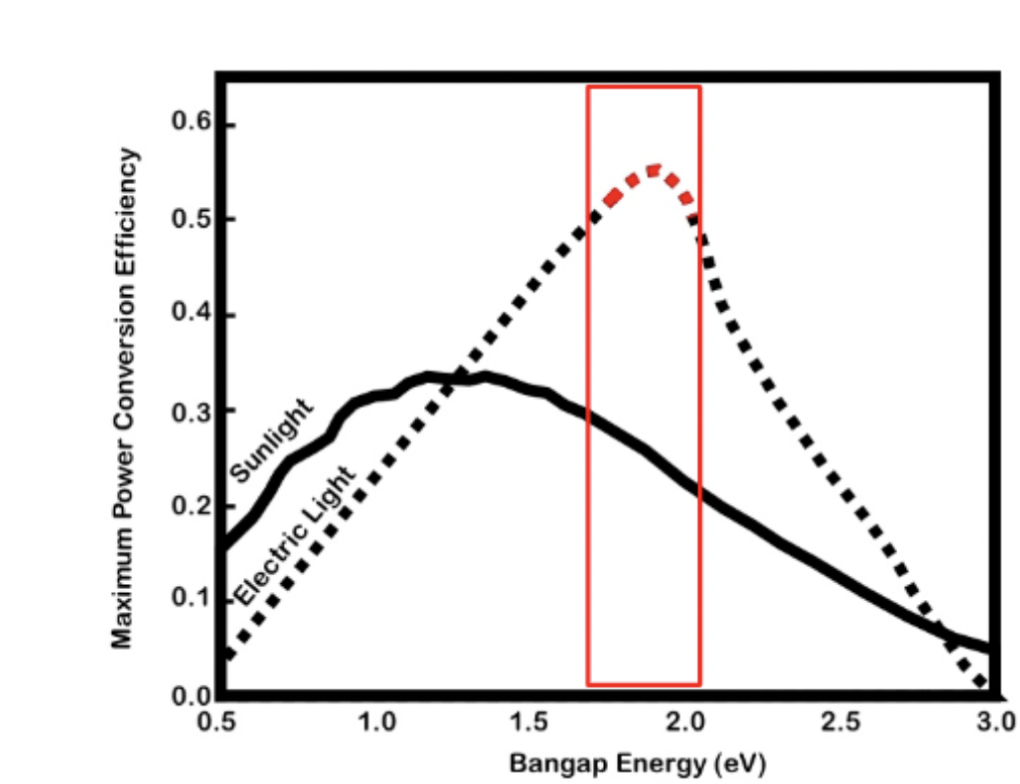 Yes they are! However, as we continue to innovate and improve on our own products, we may be using a Solar Ink™ formulation that does not match the commercially available formulations. As the Solar Ink™ formulations that we use in our PVModules mature, expect to see them as a product that you can purchase and make your own modules! Keep an eye on our technology page for our latest available products!
Solar Ink™ FAQ
No, Solar Ink™ is a perovskite based ink that can be used to fabricate perovskite-based thin-film solar cells. It does not work on its own as a solar cell. It is the light absorbing material within a material stack that forms a functional solar cell. Solar Ink™ has to be carefully integrated on a sub-micrometre scale alongside multiple layers on a material stack, to function as the light absorbing layer in a solar cell.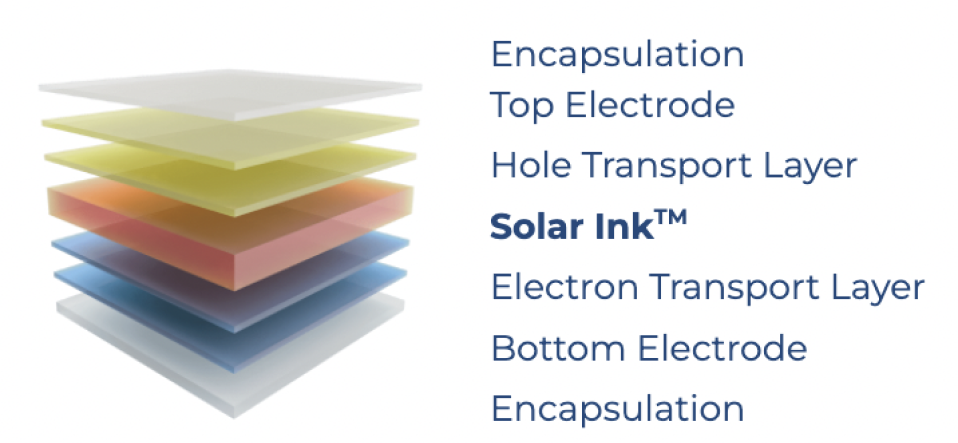 Our Solar Ink™ customers are:
manufacturers looking to use perovskite inks for commercial applications
Academic researchers at universities
Government and industry-funded research institutes
Solar Ink™ is not a direct-to-consumer product.
Solar Ink™ is suitable for a wide variety of coating methods. Solar Ink™ One is optimised for spin coating and blade coating. Solar Ink™ Evolved is in addition compatible with most inkjet printheads. We are currently optimising our products for slot-die coating. You can read more about the difference between our two available inks here . If you are interested in a coating method other than those described, please Contact Us , and we will discuss options and viability with you.
Solar Ink™ One is our first formulation. As such, it was primarily designed for use in small-scale research and manufacturing products. The solvent mixture, while acceptable at a small scale, brings up environmental and health concerns when used at a large, commercial, scale. Solar Ink™ Evolved is an answer to the concerns with large manufacturing. Solar Ink™ Evolved uses much more desirable solvents for health and environmental purposes, and also has the benefit of being compatible with a wider range of printing and coating techniques. For more details about the difference between the two inks, visit our technology page and have a look at the product brochures. For more information about our solvent choices and our dedication to an environmentally friendly process, view our past blog on the subject .
Shelf life refers to the stability of perovskite ink, Solar Ink™, in bottles between manufacturing the ink and incorporating the ink in a solar cell. Perovskite generally has a short shelf life of about 1 week and degrades when exposed to humidity, oxygen, or high temperature. Longer shelf life is required for large volume solar panel production so that manufacturers can store and use the ink continuously without interrupting the production. Solar Ink™ can be used and stored in ambient conditions. The shelf life of Solar Ink™ is up to 60 days, greater than all other commercial perovskite solar inks. By comparison, lifetime refers to the stability of a complete solar cell, after it has been produced by our customers.